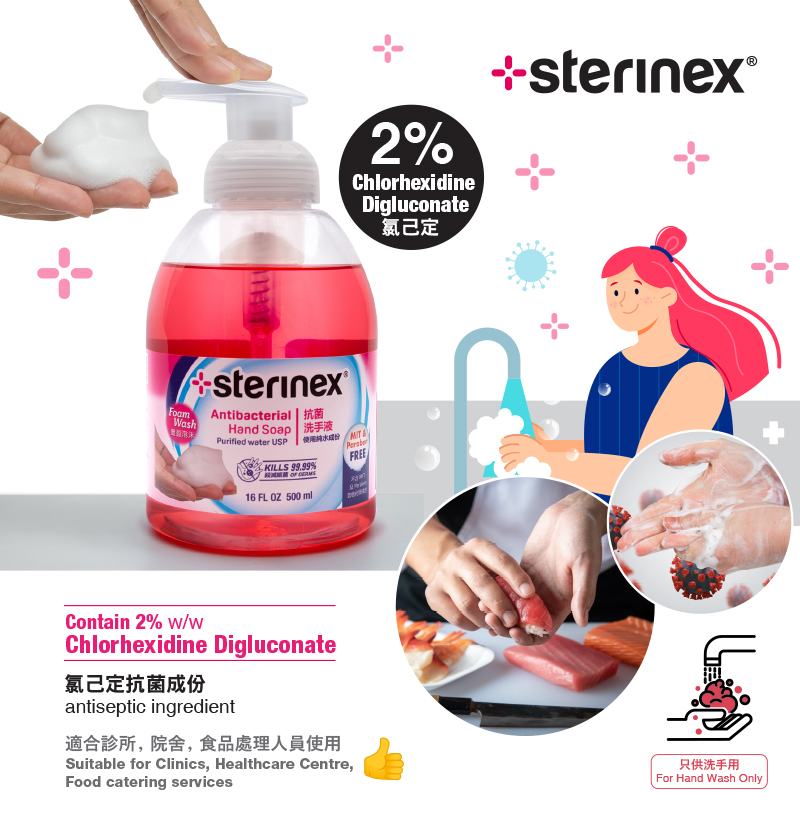 Sterinex® Antibacterial Hand Soap complies with ISO standards and its processes follow stringent requirements. The formula contains antibacterial ingredients and the Purified Water USP that can be effective against bacteria and viruses. 

Purified Water USP meets the USP pharmaceutical standards - low level of Chlorine, Bacteria, Sulfate, Ammonia and TOC (Total Organic Carbon), etc., is medical grade water. Help support a healthy skin barrier, let you feel at ease even wash your hands frequently.
- Rich foaming pump
- Kills of Germs 99.99%* - *The product is tested according to the international standard EN1276.
*Types of Germs: Pseudomonas aeruginosa, Staphylococcus aureus, Escherichia coli, Enterococcus hirae. 
- Free of Preserved Ingredients - Dioxane, MIT, CMIT, Paraben
- Contains 2% w/w Chlorhexidine Digluconate antiseptic ingredient
- Deep Cleansing
- Lasting antibacterial performance with every pump
- Contains moisturizers that leave your hands feeling soft and moisturized.
- Lavender scented
- 500 ml capacity
Made in China
CAUTIONS:
FOR HAND WASH ONLY.
Intended for use by adults only. FOR EXTERNAL USE ONLY. 
Keep out of reach of children. Avoid contact with eyes and lip area. 
Stop using if irritation occurs.
FIRST AID : Immediately consult your physician if irritation persists. 
Not for human consumption.